EmpowerRF PRP Masterclass
2nd June 2022
SkyPoint, Observation Deck, Gold Coast

EmpowerRF PRP Masterclass
What is included?
Presentation on EmpowerRF combined with PRP by Dr Elizabeth Golez

Live demonstration by Dr Elizabeth Golez.

Hands-on masterclass

Introduction to PRP

How to nerve block the clitoris before injection with lignocaine

Techniques to minimise pain during the procedure.

Breakfast and lunch
EmpowerRF is a comprehensive non-surgical platform delivering life-changing women's treatments. EmpowerRF is the most advanced feminine wellness solution leveraging three complementary energies:
submucosal fractional radiofrequency

intravaginal electrical muscle stimulation (EMS)

bipolar radiofrequency
Unlike single energy alternatives, the combination of multiple modalities allows for customised, layered procedures to address a broad range of feminine conditions, including stress, urge, and mixed urinary incontinence (SUI), and pelvic floor weakness.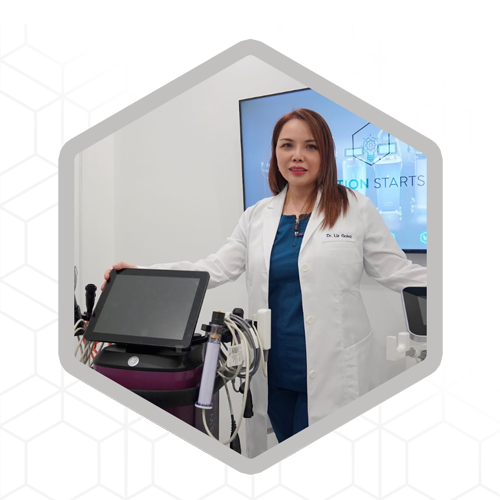 Who is Dr Elizabeth Golez?

Dr Golez has cared for Women's Health and Wellness for almost 25 years. She is a Cosmetic Doctor and a GP Obstetrician. She is also a key opinion leader for InMode on women's health.
She has achieved a Fellowship from the Royal Australian College of General Practitioners in 2017. Since then, she has Visiting Medical Officer rights as a GP Obstetrician in Southern New South Wales Local Health District.
Dr Golez practices Holistic Medicine caring for women's health and wellness from puberty, pregnancy, post-partum, menopause and ageing. She has expanded her practice to Aesthetics since improving patients' well-being is paramount to maintaining health and wellness.
She has worked with some of the best cosmetic practitioners in Sydney. Her favourite treatments include Thread lifting (HIKO nose threads, long threads using PDO/PCL/ PLLA for midface and lower face treatment and body threads), and Biostimulator filler treatment on the face and body, labial fillers and the O-shot®.
Dr Golez believes skin tightening and collagen stimulation are the holy grail of anti-ageing treatments. Lately, her favourite go-to anti-ageing treatment that complements the above is RFAL and RF fractional micro-needling.
InMode would like to thank Dr Elizabeth Golez for her time and her continued support for the advancement of women's wellness.